Welcome to the Jack Glennon Phoenix Memorial Library.
Along with many others Jack served his country proudly and voluntarily during the Vietnam War, flying helicopters where the concept of airborne combat assault was introduced and was challenged to and often beyond the limits. Those who knew and served with Jack may have a special bias, but historical records acclaim the Phoenix as one of the finest and most severely tested and highly decorated helicopter units of the era.
Many pilots and crews served proudly and honorably with the Phoenix, but few will likely have libraries named for them. That distinction is deserved by Jack Glennon -- here among his peers -- not for what he did as a Phoenix pilot on countless harrowing missions, as did many others, but for what he did long after the war had ended.
In the aftermath of the Vietnam War, most Phoenix pilots and crews separated from the Army and got on with their lives. It wasn't popular to talk about experiences and in any case stateside friends from only a year or two previously could not relate -- so most simply pushed the memories aside and details once blazingly clear faded slowly away, along with the close camaraderie all had once shared. Nearly twenty years just slipped away.
In the late 1980s Jack started trying to track down those who had flown with the Phoenix. Not only those he had known well, but any who had worn the patch. One contact led to another, and long before the Internet became commonplace Jack was banging out letters on his typewriter and licking stamps. Many contacts and addresses and leads had simply dried up, but like an old hound dog Jack wouldn't let loose. Courteous initial enquiries lead to more insistent followups, until finally his letters sounded more like they were from a badgering old drill sergeant.
Jack was relentless, persistent, indefatigable -- and slowly but surely he worked to reestablish old contacts and lists. None will ever forget the 1989 Chicago VHPA reunion, where after twenty-some years many of the Phoenix finally reassembled. Many who had flown with the unit but had served at different times met in Chicago for the first time.
At that VHPA event and several others in subsequent years, it was always Jack who arranged for a "Phoenix suite" where all could gather, tell war stories and other tall tales, and of course drink beer to help lubricate and reconstruct the old memories. And it was Jack who always made sure that Phoenix t-shirts were ready on each occasion ... sometimes a collection would go around to help cover his expenses, but he never paid any attention to that -- Jack's interest was in preserving the Phoenix brotherhood and legacy.
Jack's caisson
(photo by Marcia Kamps)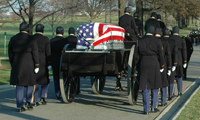 By the later 1990s the Internet had finally made it easier to find one another, but the Phoenix website and first online roster were inspired entirely by Jack's original energy and resolve and relentless effort. Vietnam veterans often say their old units don't really keep in touch. That's not true of the Phoenix, thanks to Jack's understanding that all had shared rare and special experiences and that it was worthwhile not only to keep in touch, but that we must do so in memory of the many brethren we lost long ago and far away. Jack got us all to remember again.
Phoenix 51 (Jack's Vietnam callsign) flew his final mission on the afternoon of October 4th 2006, succumbing to cancer after a valiant struggle. Following preliminary services in his home town of Virginia Beach, VA he was interred at Arlington National Cemetery on December 5th 2006. He will be missed, and there will be no future Phoenix gatherings without a toast raised to Phoenix 51. In the words of the VHPA historian, "Jack represented the heart of the Phoenix."
The Jack Glennon Phoenix Memorial Library is therefore dedicated as an online center for all Phoenix gatherings. Whenever the Phoenix assemble and for whatever reason, the roots are in Jack's tireless efforts to gather the flock together again. News of Phoenix events, recaps, and photos will be collected here for all to share.
Please submit corrections or additions to webmaster@phoenix158.org