Phoenix Vietnam Diary May 1998

by Skip Lee (Phoenix 12)
All photos courtesy "Big John" Eaton (Phoenix 31)

Photo thumbnails and links

Photo links only
Click on photo thumbnails or links to enlarge
The idea of the Phoenix (C Co, 158th Avn Bn) making a return trip to Vietnam started at the Santa Clara reunion. As time went by, the group dwindled to Big John Eaton (Phoenix 31), John Kamps (Phoenix 56), Frankie Metsker (Phoenix 14) and myself. Because our group wasn't large enough for a tour, we decided to go it on our own. I have a friend here in Honolulu that is a travel agent and I asked her if she was up to the task. She had never sent a tour to Vietnam but was willing to give it a try. We saved about $1,000 each by putting it together ourselves.
First, we decided that we would all get to Vietnam on our own and meet in Hanoi on May 15th. Big John came from Germany via Bangkok. Frankie came from Seattle and joined up with Big John in Bangkok. Kamps came from San Francisco via Hong Kong and I came from Honolulu via Taipei.
I arrived on the evening of the 15th of May. The first thing I noticed was that the customs guy was not in a very cordial mood, all business. They had their traditional helmets with the red star sitting on top the counter facing you and let you know in no uncertain terms that this was serious stuff allowing you into their country. About this time I figured that one of us was bound to do something stupid that would get us all arrested and we would spend the rest of our lives rotting in some Vietnamese prison. I finally got through customs and retrieved my bag and saw the welcome sight of the rest of the gang outside with our tour guide waiting.
We loaded up in his Toyota mini-van and away we went, horn blaring, through the streets of Hanoi. You have never heard so many horns in your life. Hanoi was mostly bicycles and mopeds with very few cars. Our hotel was very comfortable and Big John had already made sure that they understood the first priority and that was plenty of "cold beer". He had them believing that there would be very serious consequences for anyone that made the mistake of running out or not serving it cold enough. The brand name "33" has been changed to "333" but it is still the same old crap, not bad if it is cold enough and after you got the first couple down.
The next morning dawned clear, hot and humid. No trouble waking up because of the constant noise of the aforementioned horns. We started out with a cyclo tour of Hanoi and saw the surviving historical buildings to include the Hanoi Opera House and the Catholic Cathedral.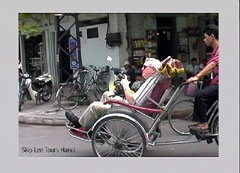 Skip Lee tours Hanoi
This was followed by the most serious part of our time in Hanoi and that was the obligatory tour of the Ho Chi Minh mausoleum. Let me tell you, this is no place to fool around. Uncle Ho is an absolute God to everyone. There are long lines everyday. Because we were foreigners, we were allowed to buck the line. No cameras, no sun glasses, no smiles and whatever you do, do not step off the red carpet as you shuffle up the steps and through the room where he is on display. Guards all over that place and they all have unsheathed fixed bayonets. They looked like they would just as soon skewer you as look at you. Anyway, Uncle Ho was there but looked kind of plastic. There is a rumor that it really is a wax dummy, but our guide assured us that it was for real. We then went around to his house and office in back of the mausoleum where he did all his work. Very neat with just the bare necessities.
The next stop was at what remains of Maison Centrale. That is the French name but it may be more familiar to us as the Hanoi Hilton. The main emphasis was on the time that the French imprisoned Viet Minh or Vietnamese patriot freedom fighters as they were called. Thousands were jailed here from the 1920s to 1954. Many met the guillotine, which was still prominently on display. The time of the American imprisonment was pretty much down played. The new U.S. Ambassador to Vietnam, Pete Peterson, had spent several years as a POW there so they did admit that Americans were also held there. It was quite the sobering experience and one of the highlights of the trip for me. By the way, a new high rise hotel has been built on part of the grounds of the old prison and guess what, it is a Hilton.
Time to get out of Dodge and head for more familiar territory. We caught an Air Vietnam jet that looked like they had just unpacked it from its crate for our flight to Phu Bai. The runway was the one we left and the control tower and operations building are the ones that were probably built by the French that we used when we were there. Our guide for the next 10 days, Hung, was waiting for us at the airport. His counterpart in Hanoi had already e-mailed him (he was also carrying a cellular phone) telling him of the high priority item of "cold beer." Big John also added one more rule beside the cold beer and that was "no diarrhea."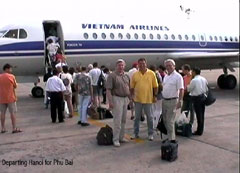 Departing Hanoi for Phu Bai
Frank Metsker, John Kamps, and Skip Lee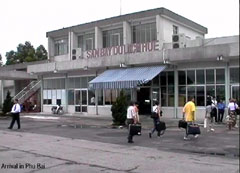 The airport at Phu Bai
We loaded up again in a Toyota mini-van for our ride in to Hue. Much more vehicle traffic here and we started seeing salvaged U.S. military vehicles that are not allowed in Hanoi. We passed what had been Camp Eagle and is now off limits to all visitors because it is a large Vietnamese Army base. We arrived at our hotel right on the beautiful Perfume River, about a quarter mile from the old Province Pad. Our hotel as nice as you would find anywhere, all the comforts of home. It had a good restaurant and bar which we patronized on occasion. The view from our rooms was directly across the river from the open air market (I believe it has been there from before the war). It looked like nothing on or near the river had changed since we were there in 1969. The river traffic was still sampans of all shapes and sizes. Many are motorized but most are still powered by a one person operated oar off the stern.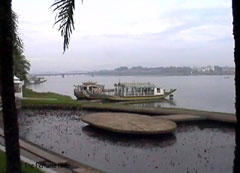 The Perfume River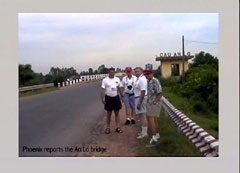 The An Lo Bridge
The next day we drove past the Hue Citadel, which has been completely restored, and headed north. We all felt that the most important part of the trip was to stop at Camp Evans. We were trying to figure out as we were driving north where it could possibly be. We knew that the name of the village outside the gate had been Phong Dien. I looked up and told Hung that we were right at the road that entered Camp Evans. No one believed me. Hung got out and asked some old folks if this village was Phong Dien and they said it was before it's name was changed.
We then drove up the hill and when we got to the top, we got out. To our right front was "The Phoenix Nest." It looked so strangely like I knew it would and I could see all the helicopters sitting in their revetments, hovering in and out and coming in for a direct approach to the nest. Except there was no sound and no dust. You could still see the oil and tar that had been used in a futile attempt to suppress the dust. We could not leave the road because of unexploded ordnance and mines that were still everywhere. We walked a little further and came to the road that ran behind our hootches just above the Redskins pads. I think we could still smell the odor from the old latrine.
The road went further and we followed it until we got to where it dissected the runway. The government has planted forests of eucalyptus trees whereever that had been a large U.S. base. They were only a few years old, so the physical features were still discernible. In a few years, all will be obscured by the trees. We silently left good old Camp Evans with our many thoughts and memories.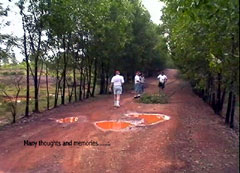 Many thoughts and memories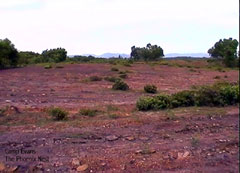 Camp Evans - the Phoenix Nest
We continued north and took the drive down Bernard Fall's "Street Without Joy" that we flew over all the time but did not have a chance to see. We visited another Citadel of one of the lesser rulers south of Quang Tri and toured another infamous French prison in that area. Up the road a little further was the Quang Tri airfield. Not much could be done to hide it. First it was right on the highway. The ground is all sand so nothing will grow, and the concrete runways are about two feet thick. Lots and lots of bomb craters. Next we stopped at Alpha 2. Again we had to stay on the paths and here we could see the fins of mortar rounds and bomblets sticking out of the ground off the paths. I kept thinking, wouldn't this be something to spend the war without as much as a scratch and then come back as a tourist and blow yourself up.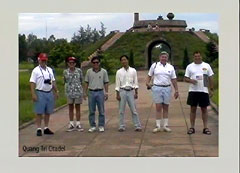 Quang Tri Citadel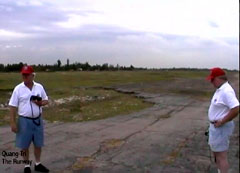 Quang Tri - the runway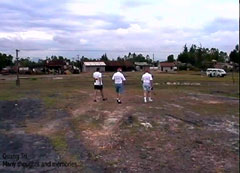 Quang Tri - Many thoughts and memories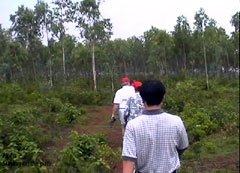 Alpha Two - Staying on the path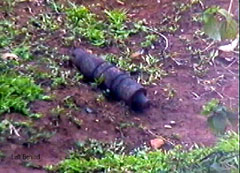 Left Behind
Then came another highlight. The DMZ, the bridge and the flag pole. The last time I saw the DMZ it was interlocking bomb craters. It is now all rice paddies. The government made a concerted effort the restore the area of the DMZ and erase all memories of the dividing line. We walked across the single lane bridge and envisioned that we had again just walked into North Vietnam. There was a large memorial on the north side of the bridge. The infamous flag pole that flew the North Vienamese flag that we could see from miles away, had been destroyed by a severe typhoon a few years back but the base of the pole was still there. There were many concrete and steel bunkers that will never be able to be destroyed that were built by the French. We then drove back into Dong Ha for lunch. Man, I never ate so much shrimp in my whole life. We had it for about every meal.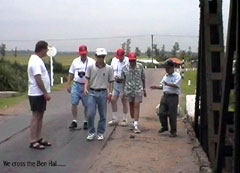 We cross the Ben Hai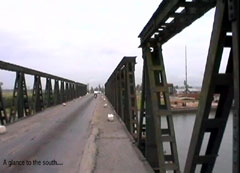 A glance to the South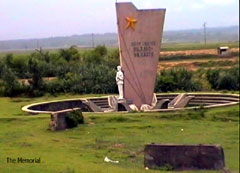 The Memorial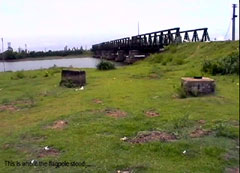 This is where the flagpole stood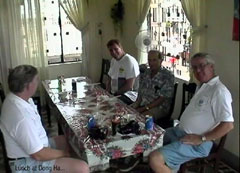 Lunch at Dong Ha
Frank Metsker, John Kamps, _________, Skip Lee
After lunch we picked up a government tour official so we could go out Highway 9 to Khe Sanh. His name was Mr. Duy and he spoke English very well. We found out that he had worked around that area, sometimes on the Dong Ha base, and it wasn't long before we figured out that he had been Viet Cong. Then came one of the funniest episodes of the whole trip. Mr. Duy was sitting between Big John and me on the second seat. Kamps was riding in the passenger seat up front. Kamps turned around in his seat and with a very serious look asked Mr. Duy "Did you ever shoot down any helicopters?" Mr. Duy jumped like he had just been goosed with a cattle prod and was stammering for an answer when Kamps all of a sudden started laughing and said, "Shit, you were probably such a bad shot you couldn't hit anything." Mr. Duy then realized that he was going to live.
We headed out Highway 9 and were able to get some good shots of the Rock Pile and Razorback. Camp Carol was another Vietnamese Army base. There is a lot of road construction going on and if they ever get it done, the drive will be a whole lot better.
We arrived at Khe Sanh to a very active and quite large village. The government has resettled the ethnic minorities from the north into the bad guy territory where all of our fun and adventure took place. I was quite surprised at the population. Khe Sanh base itself is now a coffee plantation. You could still see the runway clearly but that was about all. They did have a memorial erected in the center of the field that was quite amusing in their exaggeration of the numbers of aircraft and casualties that occurred there. I politely called bull shit on Mr. Duy and informed him that we did not loose that many aircraft in the entire war.
We then drove on out to Lang Vei, the site of the introduction of North Vietnamese tanks into the war in 1968 during the siege of Khe Sanh. Lang Vei was completely overrun at that time. While we were there we met up with a Vietnamese Army mine clearing team but they were very camera shy and would not allow any pictures. I felt better about walking around but we still had to stay on clearly marked paths. We now had to face the ride back to Dong Ha for our overnight stay. The accommodations were not quite 5 star quality, but we figured it wouldn't do much good to ask for an upgrade so we took what we got.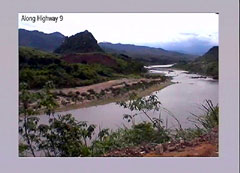 Along Highway 9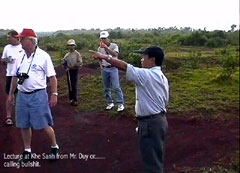 Lecture at Khe Sahn from Mr. Duy or...calling bullshit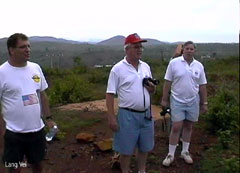 Lang Vei
The next morning after breakfast (shrimp again) we were back on the road. We had to pick up another government official because we were going into the valley so we now had our regular tour guide, Mr. Duy the VC and another guy that never said anything. We headed back out Highway 9, about three quarters of the way to Khe Sanh before we struck off south to the Ashau Valley. We crossed a long bridge that had been built by the Cubans in 1976.
The road snaked through the mountains paralleling the border with Laos. There were farms and small communities everywhere. Most of the people were Montagards. I guess the government was not too concerned about unexploded bombs as long as they were groups that had been friendly to us. We finally got to a river but no bridge so we had to get out and wade across while our driver took the van across. We all made it without anyone falling on their butts, but all the spectators did get quite a kick out of seeing a bunch of dumb foreigners getting all wet.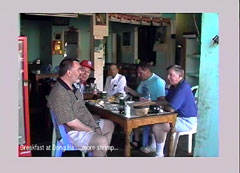 Breakfast at Dong Ha, more shrimp...
Big John Eaton, Skip Lee, _______, John Kamps, Frank Metsker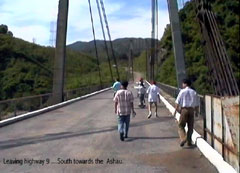 Leaving Highway 9...South towards the Ashau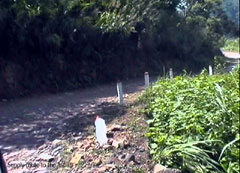 Supply route to the Ashau

The river crossing
We arrived in the A Shau. I was dumbfounded by the number of people who lived there. We had to immediately report to the local government officials before we could go anywhere. While we were waiting we were trying to pick out former bases such as Airborne or Eagles Nest or any others our old feeble minds could recall. From the vantage point of the valley floor it sure gave you a different perspective. There were a whole lot of very tall mountain peaks but nothing that we could conclusively identify as former fire bases.
We did have a very clear and definitive view of Hamburger Hill. It was very obvious to me where the LZ was when we went in on the initial assault. Again, I had to straighten Mr. Duy out on the numbers of casualties and the number of aircraft that were shot down. I could tell he really wanted to believe me but knew that he would probably be shot if he told anybody.
One interesting story we found out was that the government believes the U.S. buried a large cache of weapons and ammunition in the valley before we pulled out. They think that at any time, someone, probably CIA, is going to come back and check on the condition of everything because they have never found it. They thought that maybe someone in our group was there for that purpose. I told Mr. Duy that he could go back to his government and tell them that for sure we never left any weapons or ammo in the valley. I told him that if we had, they would have already found it and used it on us. Interestingly, after I got back I was talking to a University of Hawaii law student who had toured Vietnam and the valley the year before we went and she told me that they had told her that exact same story. We did get permission to go to the old A Shau airstrip. We were the first foreigners to go there since the war.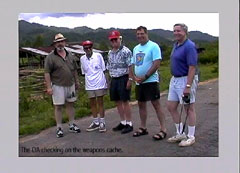 The CIA checking on the weapons cache
John Eaton, Skip Lee, ________, John Kamps, Frankie Metsker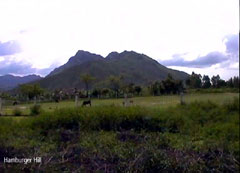 Hamburger Hill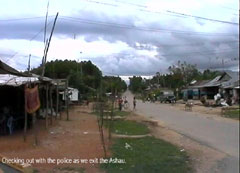 Checking out with the police as we exit the Ashau
Now for the ride back to Hue from the valley on beautiful Highway 5 to Birmingham. As I recall, that was about a 20 minute flight. Well, we got bounced around and jolted back and forth following that single lane trail for about four hours. Made me feel a little more respect for those poor engineers that we supported while they were building that road. Not much to see except there were a few "oh my God" spots where if we went off the edge we would still be falling. We finally arrived at Birmingham and to a thriving community right on the airfield. The asphalt runway was still very visible. We road a ferry back across the upper end of the Perfume River and then back to our hotel in Hue.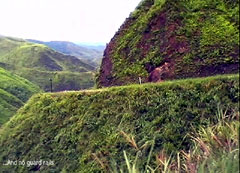 And no guard rails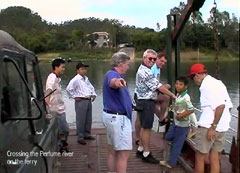 Crossing the Perfume River on the ferry
The next morning we toured the complete restored Citadel and former Imperial Palace which was very impressive. We also drove outside Hue and visited some of the tombs and summer palaces that different rulers built during the monarchy. It was very interesting to find out more about the rich cultural history of this ancient civilization. I guess it was a little hard to appreciate or understand it the last time around.
We then headed down the highway, next destination, Da Nang. Nice drive on a very busy highway. We stopped for pictures and the view from the Hai Van pass. We could see how strategically important this was, just because of the view both north and south from the summit. Down the mountain into Da Nang, past Red Beach, an interesting war museum with captured U.S. and South Vietnamese planes, helicopters, artillery and vehicles. Next stop, lunch at China Beach. This is a beach that would put many of the more famous beaches around the world to shame. Huge and not a soul in sight. Furama Corporation of Hong Kong has developed a very exclusive and expensive hotel (about $250 per day) at one end of the beach. Otherwise, nothing but sand and deep blue ocean.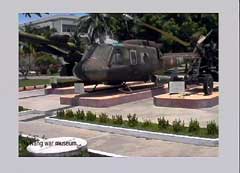 Da Nang War Museum
After lunch, we continued south to the resort town of Hoi An. It had been a major seaport for trade with Japan and China in the 16th and 17th century but the harbor filled up with silt. We visited some ancient ruins of a civilization in the area from the same period as the temples in Cambodia at Ankor Wat. It was a nice relaxing couple of days without much to do.
We then drove back up to Da Nang for our flight to Saigon. Of course the government name is Ho Chi Minh City. Saigon is still Saigon. Traffic that chokes the narrow streets, the ever exciting traffic circles and millions of motor cycles, mopeds, bicycles and even Vietnam era American cars. We checked in to our hotel on Nguyen Hue Street, or also known in the early days of the war as "The Street of Flowers" for all the flower stands on the street. All streets that had French names, except Pasteur Street, have been renamed for heroes of the Vietnam War.
We were walking down the street about a block from our hotel when we saw a sign that was written in German. We almost fell over. We went in to a very nice air conditioned restaurant with imported German draft beer in iced mugs, all kinds of different sausages, fried potatoes, sauerkraut and more cold beer. After about ten days of shrimp, it was a real treat. It was run (but not legally owned) by a German guy who probably was running from something. He took good care of us and we ate several meals there.
We spent a day touring Saigon including stopping by the closed American Embassy, the former Presidential Palace that has been turned into a museum, and an afternoon at a war museum. Interestingly, it didn't bother me that they had a museum showing their pride in winning after fifty years of fighting. Another interesting sidebar here was we met a Dutch TV reporter who was doing research on the war. She got real excited that she got to meet us and was sure that she had a story about four stressed out veterans that needed to come back to put some kind of closure on the war. I am afraid we disappointed her when she found out we were all pretty normal.
We had a real interesting evening on a river boat dinner tour and dinner the next evening at Maxim's that had nonstop entertainment. There were singers that made you believe that Celine Dion or Maria Carey had somehow ended up entertaining there. They probably did not understand a single word they were saying but every one of them were very talented.
In talking to people, they do not seem to hold any animosity toward Americans. They really want us to come back with all our money and help them get their economy going. They believe that we have more loose change laying around than we need and all we have to do is invest it in their country and it would make a tremendous difference to them. They would much rather deal with us than any of the other Asian countries. All signs marking new industrial developments are written in two languages, Vietnamese and English.
Would I do anything different if I went back? May was awfully hot and humid so maybe October or November would be better for weather. Have to keep in mind the road into and out of the Ashau though so it has to be before the rainy season. Maybe another day in Hanoi and a little longer at Maison Centrale. With all the road construction going on, traveling by vehicle will only get better. All and all, I am very glad I went. It was great fun but only because I was with Big John Eaton, John Kamps and Frankie Metsker.
Morris "Skip" Lee was a "slick" pilot with Co C 158th Aviation Battalion 101st Airborne Division from January 1969 to January 1970. He retired from the army as a CW3 after 20 years service in 1978. He also served in VietNam as a helicopter mechanic with the 173rd Airborne Brigade from May 1965 to May 1966 and with the 101st Aviation Battalion at Fort Campbell from 1961 to 1963.
The above photos are the exclusive property of John Eaton and should not be copied without his permission.
---